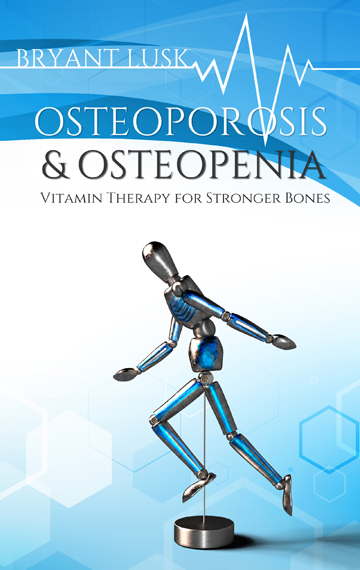 $15.99 / $2.99
Available in:

Paperback, eBook

ISBN:

978-1-7336425-0-7 (paperback) | 978-1-7336425-1-4 (eBook)
BUY AMAZON PAPERBACK
BUY AMAZON KINDLE
ADDITIONAL RETAILERS
The United States Surgeon General
Silently and without warning, bones may begin to weaken early in life if you do not have a healthy diet and the right kinds of physical activity. Many people already have weak bones and don't know it. Others are making choices that will weaken their bones later.

There are several kinds of bone disease. The most common is osteoporosis. In this disease, bones lose minerals like calcium. They become fragile and break easily. With osteoporosis, your body's frame becomes like the frame of a house damaged by termites. Termites weaken your house like osteoporosis weakens your bones. If you have severe fractures from osteoporosis, you risk never walking again. Weak bones can break easily. This can be fatal.

Fragile bones are not painful at first. Unfortunately, most people don't realize they have weakened bones until one breaks. By that time, it is hard to make your bones strong again.

The Surgeon General's Report on Bone Health and Osteoporosis: What It Means to You (Last Reviewed 2017-02) https://www.bones.nih.gov/health-info/bone/SGR/surgeon-generals-report
____________________________________________
Millions of people unknowingly suffer from lower bone density, which—if left unchecked—leads to osteoporosis. The debilitating effects of this include chronic back pain, a curved spine, and even bone fractures.
The bones that form inside your body are truly incredible. They need a steady supply of raw materials and bone cell builders for maximum density and strength. An easy to follow approach can fuel your natural ability to increase bone density, improve trabecular bone quality, and suppress bone degeneration.
Osteoporosis & Osteopenia: Vitamin Therapy for Stronger Bones provides a wealth of information with chapters that cover:
Your miraculous bones
Listening to your body
Myths and misinformation
Popular fat burners weaken your bones
What young adults need to know
Hand-picked vitamins and minerals
Absorption inhibitors and enhancers
The real solution to vitamin D deficiency
Supplement abuse
Food options
And much more…
The path of least resistance to significantly improved bone health is in this book. It contains pertinent and actionable information for you to achieve long-term results with the smallest investments in your health.
Share The Health. Start building better bones today!